About the campaign
Participants are asked to take a black and white picture of themselves while holding up an A4 sheet of paper. The format of how the content should be written on this sheet of paper is described in the instructions below. Using real photos of real sufferers allows us to more easily convey a powerful and emotional message.
It is very important for us, that we spread awareness of not only the sexual symptoms of PSSD. PSSD is more than just sexual dysfunction, we strongly encourage participants to write about their emotional as well as cognitive dysfunction (if applicable) in their statement.
Participants who are concerned about their privacy are open to hide their face with the A4 sheet (as instructed below) or with other accessories such as a face mask.
To participate, you have to either be a loved one of someone with PSSD or a PSSD patient which has had PSSD-like symptoms for at least 3 months after discontinuing their antidepressant medication.
Upload your picture here
Photo instructions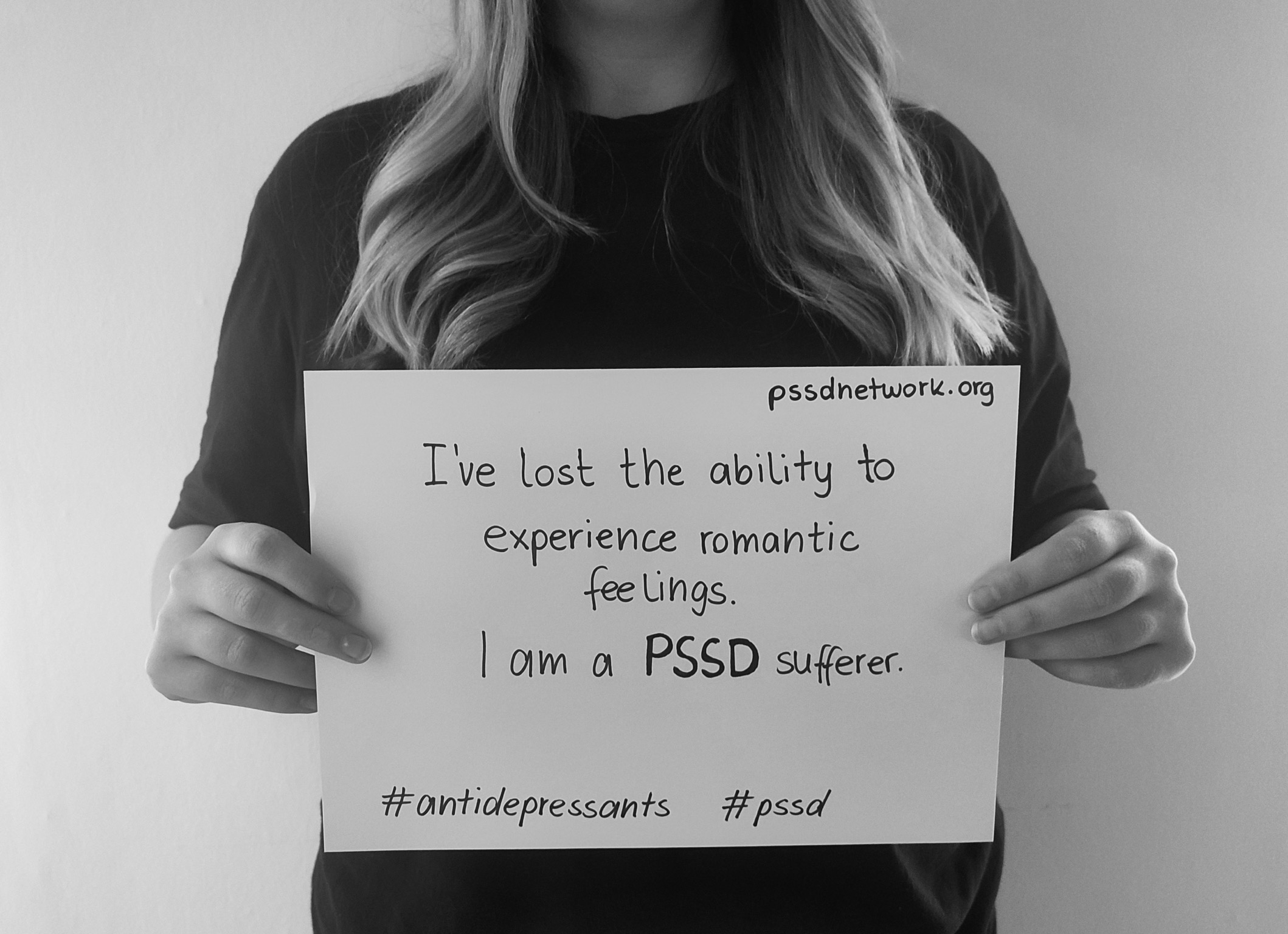 A white A4 Sheet held horizontally (below your face or covering your face)
Black and white filter (if not, it can be applied by us afterwards)

No other photo editing besides the black and white filter

In small in the bottom left corner the following text: #antidepressants #pssd

More hashtags and references will be added on the tweet / post later down the line.

In small in the top right corner the following text: pssdnetwork.org
Centered, a powerful but short message that describes how PSSD has (indirectly) affected your life
(Optional: add the sentence 'I am a PSSD sufferer' or 'I am a PSSD case' at the end of your quote)
Example messages to draw inspiration from
Antidepressants have made me mentally and physically disabled
My career is ruined due to my chronic fatigue
I can no longer experience euphoria
I can no longer experience romantic feelings
An officially approved drug has robbed me of my sexuality and my emotions, possibly for life.
My marriage is failing due to my sexual dysfunction
I'm unable to work due to my brain fog